Moots Cycles is a company with a long and still growing heritage. Their bikes are tried and true, and Moots is still quietly hand making premium bikes in the Rockies where they started back in 1981.
With the advent of gravel riding and events like the Dirty Kanza, there's been a return to titanium. It turns out that this material that was once passed by in the tech race of carbon fiber is perhaps the best frame material for this sport. It is amazingly resilient, lightweight, and durable with a ride quality to soak up the chatter and harshness of rough road surfaces. This is why titanium is making a comeback.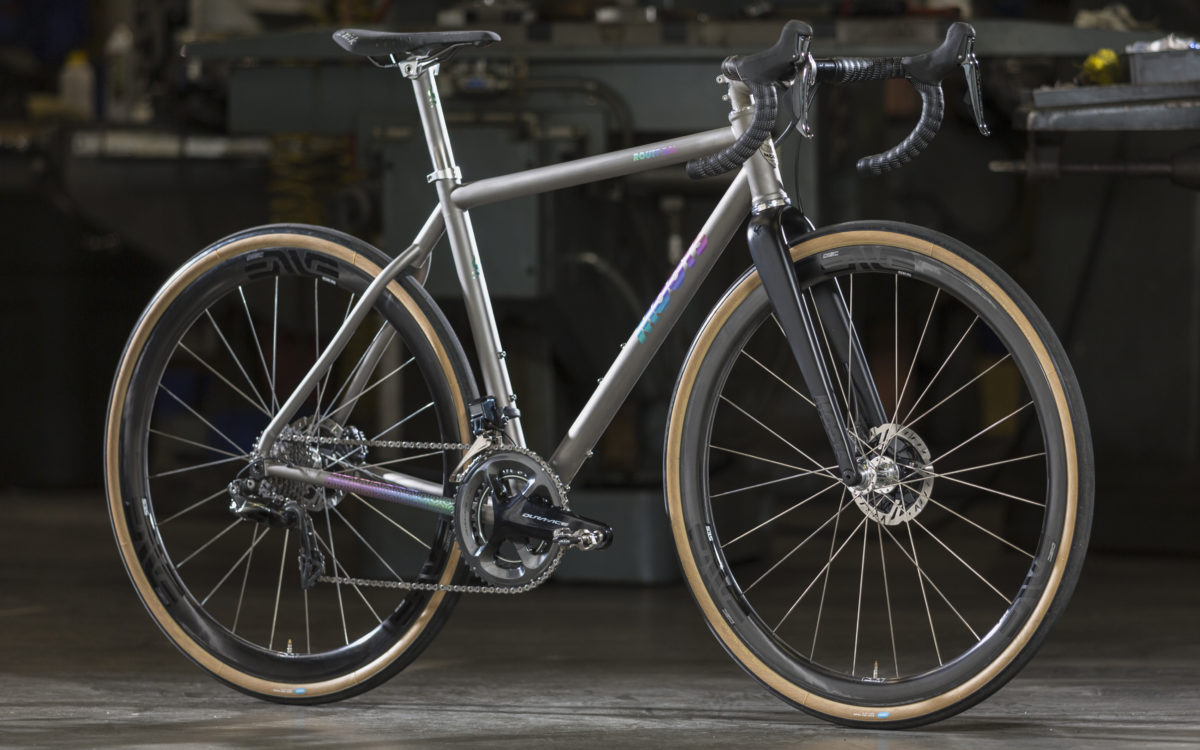 It's perhaps fitting too that this evolving discipline should spark the rebirth of titanium. The old road has become the new road. Pristine asphalt has been replaced by backroads and double track. The touted ultra-stiff and lightweight frames that are so efficient on smooth roads aren't all that well adapted to the rough roads that today's cycling enthusiasts are exploring more and more.
As the old saying goes, if it has wheels, someone will race it. In spite of the desire of gravel riders to escape the trappings of road riding, it was inevitable that things would get competitive before long. One of the icons of this new sport is the Dirty Kanza, 206 miles of country roads that make for a long day on the bike, especially a bike that is not comfortable.
The Moots Routt RSL is the ideal bike for an undertaking like the Dirty Kanza. The not-too-slack geometry retains the agility to switch lines and avoid hazards on course, and ample tire clearance gives the rider the option to run a range of treads to suit the conditions…and on a course that can turn muddy at the mention of rain, extra clearance is a true blessing.
But it's the Routt RSL's titanium craftsmanship that will win the hearts of those who ride it. The silky smooth nature of titanium takes the edge off, and the artisanal welds perfectly finish the exacting machining of the raw tubes. It's a responsive yet comfortable machine that will joyfully withstand all the miles a rider can log, and do so reliably for years on end.
This is the the Moots time tested mission, to create rideable works of art that stand up to their owners' demands and deliver mile after comfortable mile. And as we see increasing numbers of bike enthusiasts taking to less traveled byways, so too will we see a generation rediscovering the wonderfully smooth ride of Moots handcrafted titanium bicycles.
For more information about Moots, please contact:
Lars-Erik Johnson lars@cranktank.net 208.570.5541